Rodger Fox Big Band plays Hone Tuwhare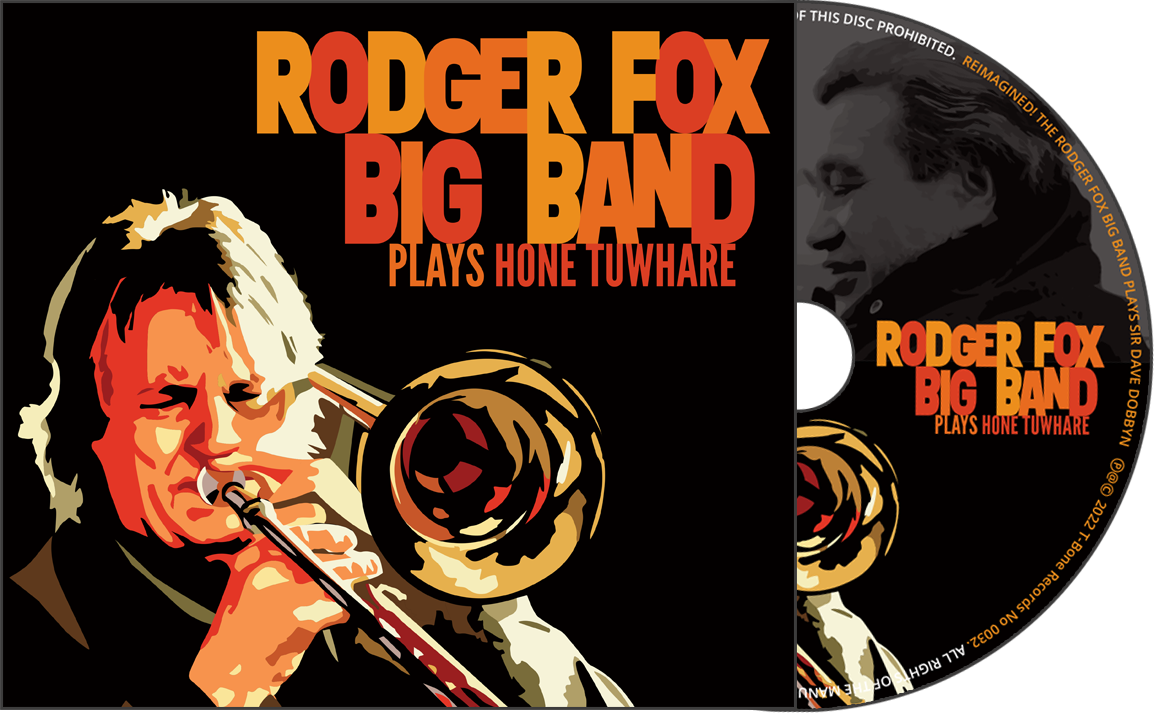 TRACKS
HOTERE
BIRD OF PRAYER
ROADS
MILES DAVIS
THE RIVER IS AN ISLAND
RAIN
HAIKU
TIME OUT
CHILD COMING HOME IN THE RAIN FROM THE STORE
SUN O
1.1. HOTERE - 7'30
Composed & Arranged: Callum Allardice
Featuring:
Louisa Williamson – Tenor Saxophone
2. BIRD OF PRAYER - 6'00
Composed: Liam Ryan
Arranged: Daniel Hayles
Featuring:
Anita Schwabe – Piano
James Guilford – Trumpet
Gus Reece – Guitar
3. ROADS - 10'30
Composed & Arranged: Bryn van Vliet
Featuring:
Jack Harré – Trumpet
Lance Philip – Drums
4. MILES DAVIS - 11'40
Composed & Arranged: Rodger Fox
Featuring:
Cameron Robertson – Trumpet
Dylan Holmes – Baritone Saxophone
Rodger Fox – Trombone
Nicholas Baucke-Maunsell – Alto Saxophone
Oscar Lavën – Tenor Saxophone
Gus Reece – Guitar
5. THE RIVER IS AN ISLAND - 9'20
Composed & Arranged: Anita Schwabe
Featuring:
Gus Reece – Guitar
Oscar Lavën – Tenor Saxophone
Bryn van Vliet – Alto Saxophone
6. RAIN - 7'30
Composed & Arranged: Lauren Ellis
Featuring:
Oscar Lavën – Soprano Saxophone
James Guilford – Trumpet
7. HAIKU - 4'30
Composed & Arranged: Godfrey de Grut
Featuring:
Rodger Fox – Trombone
8. TIME OUT - 5'25
Composed & Arranged: Daniel Hayles
Featuring:
Bryn Van Vliet – Alto Saxophone
Anita Schwabe – Piano
9. CHILD COMING HOME IN THE RAIN FROM THE STORE - 5'05
Composed: Julie Lamb, Shan Jordan,
Chris Fursdon, Matt Fitzpatrick,
Frank Talbot, Kali Barton &
Andrew Richardson
Arranged: John Rae
Featuring:
Louisa Williamson – Tenor Saxophone
10. SUN O - 7'40
Composed & Arranged: Oscar Lavën
Featuring:
James Guilford – Trumpet
Kaito Walley – Trombone
Oscar Lavën – Tenor Saxophone
Lance Philip – Drums
Rodger Fox Big Band plays Hone Tuwhare
The Rodger Fox Big Band plays Hone Tuwhare brings together a team of music collaborators to record and perform original works based on the poetry of the late Hone Tuwhare – 1922–2008.
Hone Tuwhare is the people's poet. He was loved and cherished by New Zealanders from all walks of life. Touring tirelessly, Hone shared his talent and inspired audiences in every corner of the country from primary and secondary schools to universities, factories to art galleries and prisons. As he travelled, Hone encouraged others to write, express themselves, create and celebrate life.
Inspired by Hone's poetry, Rodger Fox has gathered the cream of the crop to produce this unique album that marks the 50th anniversary of the Big Band and celebrates the 100th anniversary of Hone's birth in 1922.
"I would like to thank all the composers, arrangers and musicians who contributed, including a shout out to Richard Caigou, Recording Engineer, and Talley Sherwood, our Mixing Engineer. Thank you also to Rob Tuwhare and the Hone Tuwhare Charitable Trust for their support
and Victoria University of Wellington for their generous research grant.
Kindest thoughts and keep the Jazz flag flying.
Enjoy,
Rodger Fox
THE RODGER FOX BIG BAND
RODGER FOX – Musical Director / Trombone
SAXOPHONES:
Bryn van Vliet – Alto / Flute
Nicholas Baucke-Maunsell – Alto / Flute
Oscar Lavën – Tenor / Soprano / Clarinet
Louisa Williamson – Tenor
Dylan Holmes – Baritone / Bass Clarinet
TRUMPETS:
Jack Harré – Lead Tracks: 3, 4, 7, 8, 10
Cameron Robertson – Lead Tracks: 1, 2, 5, 6, 9
James Guilford
Mathew Stenbo
Chris Selley
TROMBONES:
Chris Fox – Lead
Kaito Walley – Tracks: 1, 4, 5, 6, 9
Connor Gentry – Tracks: 2, 3, 7, 8, 10
Damian Forlong
Kurt Gibson
KEYBOARD:
Anita Schwabe
GUITAR:
Gus Reece
BASS:
Rory Macartney
DRUMS:
Lance Philip
Notes
1. HOTERE
Callum Allardice – Composer & Arranger
When Rodger approached me with the project, I decided to choose Hone Tūwhare's work 'Hotere' as I had been to a Ralph Hotere's exhibition earlier that year and really enjoyed it. I had never really written music inspired by an external source or influence before, and starting the piece was incredibly difficult for me! I analysed the poem intensely, and even tried to find out about the relationship that Ralph and Hone had. In the end, I decided that there was no way I could really know the poem or the friendship they had, so instead, I thought about how their work inspired each other.
This led me to think about all the great musicians I've had the privilege to work with and can call friends. The title of the piece is Whanaungatanga, which I think is a great word that embodies what this music, and what being a musician is about to me. So, this is a tribute to my musical whānau, and the inspiration you all have given me.
About Callum Allardice
Callum Allardice is a musician, composer, and artist-teacher for guitar at Te Kōki - New Zealand School of Music. He is a three-time winner of the Apra Best Jazz Composition award, as well as the 2021 Recorded Music NZ Te Kaipuoro Tautito Toa – Best Jazz Music Artist with his band The Jac.
Callum's recent albums include 'Good Winter' (Rattle Records 2018), from Trans-Tasman collaborative project Antipodes; as well as 'A Gathering' and 'Walking Spirits' (Thelonious Records 2020 and 2021), recorded with The Jac.
In 2022, Callum was appointed the inaugural Creative New Zealand/NZSM Jazz Composer-in-Residence by Te Herenga Waka—Victoria University of Wellington.
2. BIRD OF PRAYER
Composed: Liam Ryan
Arranged: Daniel Hayles
Liam Ryan - Composer
Bird of Prayer is a response to Hone Tuwhare's poem of the same name. The poem evokes memories of hawks (kahu) hovering above Dovedale Valley near Nelson. The piece describes both the majesty and menace of the kahu as a messenger from the spirit world – a world Hone explored in his landscape poems. The piece is in five parts: Fanfare, Hymn to the Whenua, Arrival, Ascension, and Farewell.
About Liam Ryan
Christchurch-born musician and arts educator Liam Ryan made his name as keyboardist and composer with the award-winning band The Narcs in the 1980s – (You Took Me) Heart and Soul, Diamonds on China). He has featured as a session player on New Zealand recordings and toured as a sideman with international artists. He is a past Director of the National Jazz Festival Tauranga and a Life Member of the Tauranga Jazz Society.
3. ROADS
Bryn van Vliet - Composer & Arranger
For this project, I wanted to produce a piece that evolved and became a journey, which resulted in my choosing Tuwhare's work, "Roads". To me, "Roads" carries themes of melancholy, optimism, and imagery of changing landscapes. I approached these themes by creating a musical representation of the key parts of the first line of each stanza; "I turn away from roads", "I have learned to love", "Night birds" etc. Initially, in the composing process, the words to the poem felt lyrical, so my first ideas were written as if to be performed by a vocalist. These melodies were then adapted to an instrumental layout and then expanded for a 17-piece Jazz Orchestra.
About Bryn van Vliet
Bryn van Vliet is a Wellington-based Saxophonist, Composer/Arranger & Educator. He's been a contributing member of the Wellington and NZ music scene since 2011 with many credits to his name. Bryn is a member of multiple well-recognised outfits such as the RFBB - whose credits include national & international tours with some of the leading musicians in the Jazz style. He is also a member of the well-known Wellington group 'Tunes of I' whose impressive CV includes national & international tours, opening slots for Fat Freddy's Drop, Ocean Alley (in NZ & 2018 in Australia), Sticky Fingers, The Black Seeds, Katchafire, The Original Wailers & UB40, in addition to playing two shows supporting The Red Hot Chilli Peppers & Tash Sultana at Spark Arena in Auckland in 2019.
As a composer, Bryn has written and released music for multiple projects spanning various genres (Jazz, Big Band, Folk, Pop). The projects include his debut Jazz album 'Wanderings' released in 2021, a singer-songwriter EP released in 2019 and a new alternative pop project called "NOVA". Bryn is also an avid collaborator having penned horn arrangements, big band arrangements, recorded saxophones, and written songs for artists locally and across NZ.
As an educator, he is currently the Saxophone tutor at The New Zealand School of Music and has taught music privately in Wellington for nine years.
4. MILES DAVIS
Rodger Fox - Composer & Arranger
A poem Hone Tuwhare wrote around his love of the iconic jazz stylist Miles Davis. As Miles Davis was a ground-breaking artist who explored many styles of jazz I decided to try and do the same things. Firstly, I found a recorded version of Hone Tuwhare speaking his poem. From this, I notated his inflections in the delivery of the poem and used parts of this to create a melody. 'Miles' was known for his harmon mute sound on the trumpet, so I explored this sound for the opening statement. From there we went to big band land – with a straight-ahead swing blues and then headed into the funky groove of today's sounds which Miles Davis would have gravitated to.
About Rodger Fox
Rodger Fox CNZM is a New Zealand trombonist, jazz educator, recording artist, composer/arranger, and leader of the Rodger Fox Big Band. He founded his jazz big band in last 1972 and has toured extensively in New Zealand and overseas, playing at international jazz events including Montreux and Monterey Festivals and the Jazz Education Network conference. He is a Senior Lecturer in jazz at the New Zealand School of Music at Victoria University of Wellington.
5. THE RIVER IS AN ISLAND
Anita Schwabe - Composer & Arranger
I picked this poem as nature is often an inspiration in my composing. I chose a 6/4 feel to give me both a straight and a subdivided feel as the water divides and returns to one flowing entity.
"A low bank on your left holds your laughing stitches in" is a particularly delightful description where I use the low bass line to hold the harmony for the playful lines of the horn section.
"Joy leaping down a greenstone stairway: anger cradled in a bed of stones" In the raging tenor sax solo, the bass and piano feature in energetic lines whilst the horn backgrounds create the harmony of the greenstone stairway.
"Go river go. To ocean seek your certain end. Rise again to cloud; to a mountain" I wanted the ending to suggest the never-ending water cycle and to rise to a broad statement reflecting the idea of something starting small then growing over time and expanding to become something massive.
"Drinking from a tiny cup, Ah, river you are ocean: you are island".
About Anita Schwabe
Anita Schwabe is a jazz pianist and composer who tutored at the Jazz school in Wellington for 18 years. She has studied both here in New Zealand and at the Koninklijk Conservatorium in the Netherlands, Banff Centre for the Arts in Canada, and Berklee College of Music in the USA. She has performed at all the major festivals in NZ with her own groups and is currently a member of the Rodger Fox Big Band which has toured both NZ and the USA.
Composing is a big part of her jazz performance, and she has received several awards and commissions. In 2020 she was a recipient of the Wellington Jazz Festival Commission and wrote a suite of music 'A Snapshot of Wellington' with photography of Wellington by Saskia van Dijk accompanying the suite.
In 2018 she won the APRA award for best jazz composition 'Spring Tide' which was released on her CD 'Eat Your Greens' featuring Ron Samsom, Cameron McArthur, and Roger Manins. She was also a finalist in the 2021 APRA jazz awards with 'August Augmentation'.
6. RAIN
Lauren Ellis - Composer & Arranger
The predominant theme of this piece is a playful and curious 4-note idea that embodies the characteristics highlighted in Tuwhare's poem. Tuwhare doesn't rely on visual descriptors, but rather, on feeling, thus, the intent was to incorporate the personality he gives to rain, and the senses he acknowledges, smell, touch, sight, and sound. The melody is introduced with solo soprano and flugelhorn, the utilisation of woodwinds was important in bringing texture and depth to the idea as well as evoking an innocent and airy flow. From rich, low brass to light and graceful flutes, the full breadth of the orchestra is employed to highlight the many personalities of rain. You will hear the main theme scattered throughout the piece in various forms, at times as the 4-note melody and others, simply the rhythmic phrase. When the theme is re-introduced at the end, it is carried by the piano and bass as other instruments slowly trickle in. Orchestrating in this way allows for acknowledgment of the original melody and elicits a feeling of familiarity while at the same time, representing the words in Tuwhare's final stanza; "define," disperse," and "wash over".
About Lauren Ellis
Lauren Ellis is a drummer, composer, and educator from Te Whanganui-a-Tara (Wellington), Aotearoa (New Zealand). Lauren is currently based in Los Angeles where she graduated with a Master's degree from the University of Southern California's Thornton School of Music in 2021. There she studied under Peter Erskine and acted as his teaching assistant for two years as well as studying with Russ Ferrante, Bob Mintzer, Vince Mendoza, Aaron Serfaty, and Will Kennedy. Previously, Lauren earned both her Bachelor of Music and Post Graduate degrees at Te Kōki New Zealand School of Music.
Now based in California, Lauren is an active and busy member of the Los Angeles music community, performing regularly with groups such as the Paul Nelson Big Band, Michael Orenstein Trio, Logan Kane Band, and Anja Nissen. Including being a mentor at South Pasadena's Arts and Music Academy, she is also spending her time in recording studios around Los Angeles as a session musician as well as being a first-call sub for Peter Erskine.
Aside from performing, Lauren is an accomplished composer, currently working on film and documentary scores, while also frequently writing commissioned works for jazz ensembles in both the US and Aotearoa.
7. HAIKU
Godfrey De Grut – Composer & Arranger
Tuwhare's Haiku plays on the rhyme scheme of minimal/animal and instantly caught my ear.
It's a classic scenario with the author needing to convince a significant other that their feelings are indeed profound.
I started looking for a punchy up-tempo phrase that could work as a diatonic (minimal) riff, but also be expanded to a more complex structure through chord melody or reharmonization.
Somehow the initial bassline evoked the need for a double-time feel surf-rock drum beat to anchor things which then informed some metric points of contact for the band to follow.
I knew Rodger would provide a ton of 'animal' when he blew over the changes, so I focused on providing a bunch of developmental sections that move the lister through different tonalities, rhythmic combinations and soli sections that aim to be the anthesis of minimal.
Brass and Woodwind are featured in challenging sections (with special emphasis on the bari sax) while the rhythm section adds more 'surf' mixed with Bo Diddley.
About Godfrey de Grut Godfrey de Grut is a former member of the Rodger Fox Big Band and is currently the director of songwriting studies at the University of Auckland.
Starting with a Best Jazz Album of the Year award in 1997 with his band The New Loungehead Godfrey moved on to session work and performance with a wide range of songwriters in Aotearoa collecting the Silver Scroll Award in 2002 with Che Fu for the hit song "Misty Frequencies".
He has appeared on numerous records in various roles from performer and arranger to producer and secretly wishes he had his own private big band.
8. TIME OUT
Daniel Hayles – Composer & Arranger
I wrote the melodic parts of the piece after spending time at the piano, reading and listening to the poem as a kind of meditation on the idea of nostalgia, and the sadness of looking back. I also thought about time in a broad, musical sense.
Through the duration of the piece, the rhythmic tension between different parts of the band develops in a sequence that demonstrates how even remaining in one tempo, time can be perceived to be moving fast or slow, or in combinations of the two. The harmony at the beginning and middle section of the form have tangible jazz voice-leading qualities but unfamiliar root movement. They 'pursue' but never 'catch up'. At times, two bass lines appear at once, further symbolizing this idea. The last chord is a suspension of a dominant chord that urges movement, but it doesn't move – it feels like the 'the / solace / in / a / resolute / search / for / my space / my beginnings / my Self.'
About - Daniel Hayles
Daniel is a jazz and groove-centric musician from New Plymouth and holds a Post-Graduate Diploma in jazz piano (PGDipMus) from the New Zealand School of Music. When he is not playing at one of the many live music spots in Wellington City, Daniel writes and arranges music for local and international shows, visiting artists and bands such as the Rodger Fox Big Band, Orchestra Wellington, and the New Zealand Symphony Orchestra, and he is also gaining recognition as a Musical Director.
Daniel's first album, Eldest of Five, was released in September 2019, and his second album Other Futures was released in March 2022. Daniel currently performs with such wide-ranging and prominent acts as Lord Echo, Hollie Smith (including on her number one albums Water or Gold and Coming in From The Dark), as well as local bands and artists.
Daniel has just finished his sixth year as an instructor at Te Kōkī The New Zealand School of Music at Victoria University of Wellington, where he is a lecturer in teaching jazz combo, vocal ensemble, and big band as well as guest lecturing on arranging, engraving, production,
and composition.
9. CHILD COMING HOME IN THE RAIN FROM THE STORE
Julie Lamb - Composer
What a delight to read and listen to this poem over and over again, to explore it with like-minded musicians – who understood all at once the dawdle of a child, the comfort of the familiar, the pride in being given a special task and… letting go of that responsibility in pursuit of fascination with the ordinary. Our composition shares, with you, all of that.
Opening the door to the day and the errand, the child dawdles to the store, chatting to the world, stopping to admire the sharp shiny faced stone, only to step out of the store into the rain, which does all that rain does – before handing over the prize – the damp bread.
About – Julie Lamb
Julie Lamb composes with a crew of talented musicians – The Julie Lamb Outfit, an 8-piece pop-funk collaborative.
With varying ensembles, Julie has released five albums of originals – three achieving top ten status on the official NZ Album Charts, an award for the music video "Waterproof" and a Pacific Song-writing Award for the acapella piece "Skinny as a Pin Man". This year (2022) will see the release of the 50th original song.
Latterly the Julie Lamb Outfit are calling their sound "mischief groove" – a definition they settle into well.
10. SUN O
Oscar Lavën – Composer & Arranger
Hone Tuwhare's "Sun O" is an energetic celebration of the sun and its rejuvenating effects on fragments of everyday moods. Oscar Lavën's musical interpretation seeks to capture these spikes of jubilation, growing from small sparks of energy starting from unaccompanied saxophones, all the way to full-fledged solar flares in the final shout section of the piece. The unbridled yet emotionally sophisticated joy of the poem lent itself to a Mingus-esque aesthetic, which is referenced in the style of this work.
About Oscar Lavën
Oscar Lavën is a hard-working, sharp-dressing cross-genre performer and composer, never failing to magnify his flamboyant energy through the horn. In addition to being a member of the Rodger Fox Big Band, he has performed with notable artists and ensembles, including John Beasley's MONK'estra, the New Zealand Symphony Orchestra, Steve Gadd, Dave Weckl, Plácido Domingo, Robben Ford, James Carter, Gregg Bissonette, Rhombus, The Wellington Mingus Ensemble, The Wellington City Shake Em On Downers, Auckland Philharmonia and more. He is about to release his first self-led quintet album on Thick Records.
Credits:
Recorded at New Zealand School of Music, Wellington, New Zealand Recording engineer Richard Caigou
Mixed at Tritone Studios, Los Angeles
Mixing and mastering engineer Talley Sherwood
Poetry Publishing Rights - Hone Tuwhare Estate
Hone Tuwhare poetry is available in Small Holes in the Silence: Collected Works, Godwit Press,
Penguin Random House NZ, 2011.
All inquiries to honetuwharepoetry@gmail.com
This project was fundedby a Te Herenga Waka—Victoria University of Wellington Faculty Strategic Research Grant, under the Wellington Faculty of Humanities and Social Sciences.
The grant supports ambitiousand high-quality research which aligns with Te Herenga Waka—Victoria University of Wellington's strategic aims.
Graphic Design: Flightdec.com
p @ © 2022 T-Bone Records No 0032 ALL RIGHTS RESERVED
Produced by RODGER FOX & TALLEY SHERWOOD
Endorsements:
Rodger Fox plays Yamaha Trombones
Lance Philip plays Yamaha Drums
Rory Macartney endorses Aguilar Amplification