Rodger Fox Big Band Featuring King Kapisi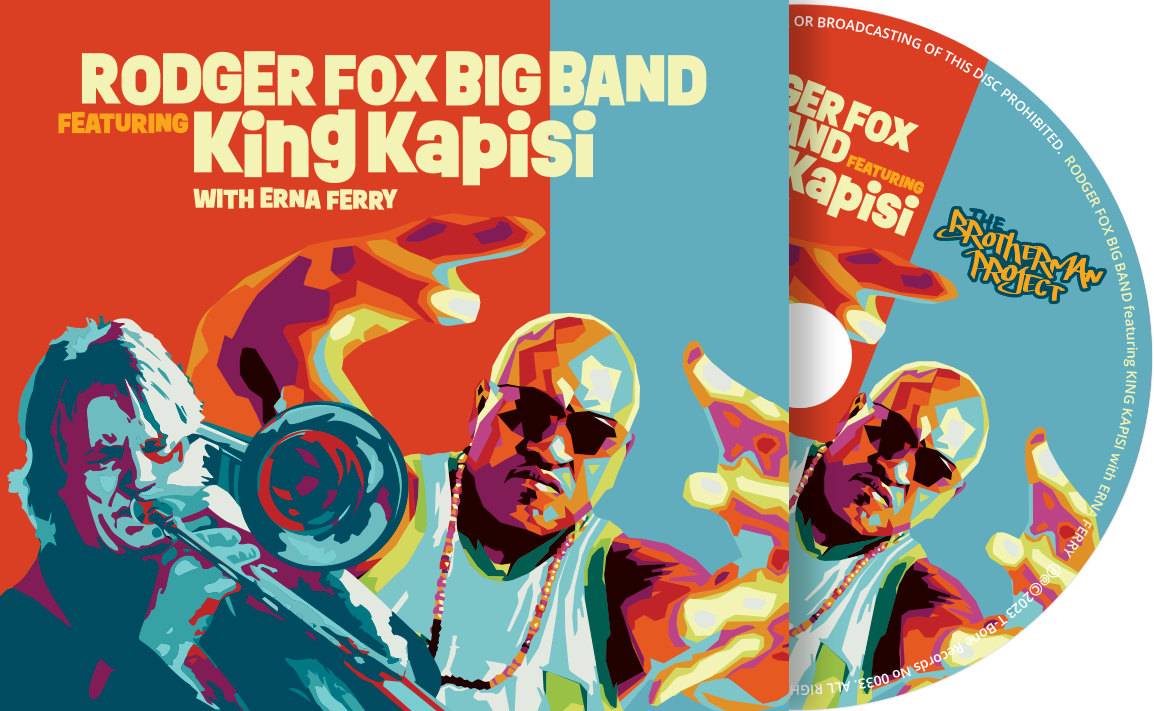 TRACKS
U Can't Resist Us
Won't Stop Can't Stop
Elimination Process
Screems from Da Old Plantation
Elemental Forces
Subcranium Feelings
Saboteur
Raise Up
1. U Can't Resist Us 5.07
Composed: Bill Urale
Arranged: Thomas Faure
Featuring: Oscar Lavën – Tenor Saxophone
2. Won't Stop Can't Stop 5.29
Composed: Bill Urale
Arranged: Matt Harris
Featuring: Gus Reece – Guitar
3. Elimination Process 6.04
Composed: Bill Urale
Arranged: Matt Harris
Featuring: Bryn van Vliet – Alto Saxophone
4. Screems from Da Old Plantation 5.48
Composed: Bill Urale, K.Futialo
Arranged: Bryn van Vliet
Featuring: Rodger Fox – Trombone
5. Elemental Forces 4.07
Composed: Bill Urale
Featuring: Daniel Hayles
6. Subcranium Feelings 4.02
Composed: Bill Urale, Andy Morton
Arranged: Rodger Fox
Featuring: Aidan McCulloch – Tenor Saxophone
7. Saboteur 6.26
Composed: Bill Urale, Teremoana Rapley
Arranged: Thomas Faure
Featuring: Gus Reece – Guitar
8. Raise Up 5.49
Composed: Bill Urale, M.Luafutu, T.Keisha
Arranged: Rodger Fox
Featuring: Oscar Lavën – Tenor Saxophone
Rodger Fox – Trombone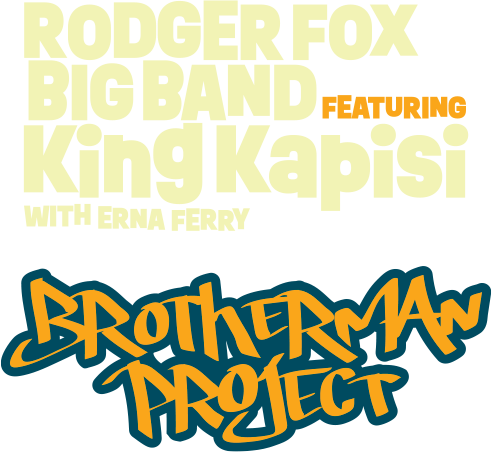 The Rodger Fox Big Band (RFBB) featuring King Kapisi with Erna Ferry 'The Brotherman Project' fuses modern big band sound and Aotearoa-New Zealand Hip-hop. This has been achieved by blending the sound of the RFBB with that of iconic New Zealand hip-hop artist, King Kapisi.
King Kapisi was the first hip-hop artist in New Zealand to receive the prestigious Silver Scroll Award at the APRA Awards for Songwriter of the Year for his single Reverse Resistance in 1999. King Kapisi uses hip-hop to promote the message of 'keeping it real' through your culture, learning your language, and knowing 'where you are from'.
The RFBB is widely acknowledged as New Zealand's leading exponent of big band music and, over its long history, has always been one to break the barriers by collaborating with international classical artists Michael Houstoun and Simon O'Neill – Classical meets Jazz, and with the RFBB's most
recent releases Reimagined! The RFBB plays Sir Dave Dobbyn, and RFBB Plays Hone Tuwhare.
Now dig the sounds of big band jazz meets hip hop. It has been a fantastic project to be involved with.
Best, Rodger and Kaps.
THE RODGER FOX BIG BAND
King Kapisi – Vocal/Rap
Rodger Fox – Music Director / Trombone
Erna Ferry – B/V and Vocals
Saxophones
Bryn van Vliet: Alto One / Flute & Clarinet– Tracks 1, 2, 3, 4, 7, 8
Alex Trask: Alto One / Flute & Clarinet – Tracks 5, 6
Nicholas Baucke – Maunsell: Alto Two / Flute / Clarinet
Oscar Lavën: Tenor One / Clarinet
Aidan McCulloch: Tenor Two
Dylan Holmes: Baritone
Trumpets
Cameron Robertson – Lead
Mathew Stenbo
James Guilford: Tracks 1, 2, 3, 5, 6, 8
Chris Selley
Hayden Richardson: Tracks 4, 7
Trombones
Chris Fox – Lead
Kaito Walley
Damian Forlong
Kurt Gibson
Keyboards
Anita Schwabe
Guitar
Gus Reece
Bass
Rory Macartney
Drums
Lance Philip
Credits
Recorded at New Zealand School of Music, Wellington, New Zealand
Recording engineer Richard Caigou
Mixed at Tritone Studios, Los Angeles
Mixing and mastering engineer Talley Sherwood
This project was funded by a grant from Youth Town and Aotearoa Jazz Education & Performance Trust Charitable.
Graphic Design: Flightdec.com
TBONE0033
@ © 2023 T-Bone Records No 0033
ALL RIGHTS RESERVED
Produced by Rodger Fox & Talley Sherwood
Endorsements:
Rodger Fox plays Yamaha Trombones
Lance Philip plays Yamaha Drums
Rory Macartney endorses Aguilar Amplification