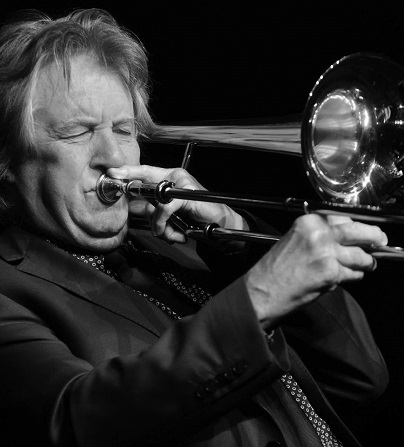 New Zealand's premier big band lead by jazz-big band, trombone legend Rodger Fox this band covers all bases.
Sizzling ensemble playing, stunning soloists and the desire to give people a good time through music.
The Rodger Fox big band has won 6 Tui awards for the best New Zealand jazz recording.
The Rodger Fox Big Band have performed with some of the biggest names in jazz, blues and contemporary music including Michael Brecker, Steve Gadd, Randy Crawford, Joe Williams, Robben Ford, Patti Austin, Kurt Elling, Diane Schuur, Mike Stern, Chris Cain, Eric Marienthal, John Fedchock, Bill Cunliffe, Steve Houghton, Chris Cain, Dick Oatts, Charlie Musselwhite, Jon Papenbrook, Alex Sipiagin, Bob Sheppard, Bruce Forman, Charley Davis, Denise Perrier, Alan Broadbent and Jim Pugh... to name but a few.
New Zealand artists the big band has performed with include Holly Smith, Midge Marsden, Mark Williams, Erna Ferry, David Feehan, Debbie Harwood, Hammond Gamble, Larry Morris, Tim Beverage, Roger Manins, Lisa Tomlins, Brian Smith to name but a few.

Saxophones
Alto 1 - Bryn Van Vliet
Alto 2 - Frank Talbot
Tenor 1 - Oscar Laven
Tenor 2 - Louisa Williamson
Baritone - Eilish Wilson
Trombones
Chris Fox
Kaito Walley
Damian Furlong
Kurt Gibson
Trumpets​​
Jack Harre
Ben Hunt
James Guilford
Chris Selley
Rhythm Section
Anita Schwabe
Dean Hunter
Rory Macartney
Lance Philip