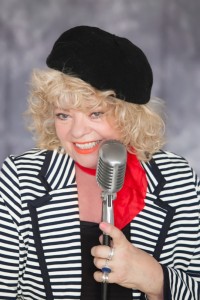 French Night In
About
A Votre Sante !!
Thinking of putting on a French evening complete with French fare and French wine ? …. then this is the entertainment package for you.
Solo artist, Erna Ferry performs an evening of French and 'French-styled" 'classic hits' by artists such as Edith Piaf, Eartha Kitt, Charles Aznavour, and Melody Gardot.
Erna dresses in classic French garb and brings a selection of props with her (French flags etc) along with great sense of fun! The evening includes a 'Cabaret audience singalong' if requested – (lyrics provided).
Perfect entertainment for Bastille Night.
Ooh la la !!