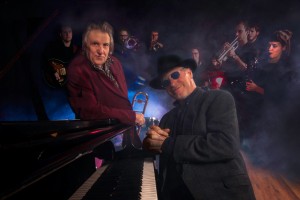 Maestro meets maestro
Houstoun - Fox project
About
New Zealand's premiere classical and jazz musicians come together to present a show like no other.
Michael Houstoun – classical piano maestro and Rodger Fox – renowned jazz artist – big band leader, are masters of their craft. The joining of these two New Zealand icons blends the best of classical, with the best of jazz.
Special guests will include vocalist Erna Ferry.
"Rich emotion, exuberant joy, and a thunderously good time was had by players and audience together"
"The music works tensions between classical and jazz genres, and with combined originality and genius, Fox and Houstoun are producing performances of world standing"
Sam Edwards - Waikato Times
"As the concept is exceptional, the performance unerring, and there is nothing elsewhere to censure, a motion to award five stars has been proposed, seconded and approved"
Jack Bowers All About Jazz