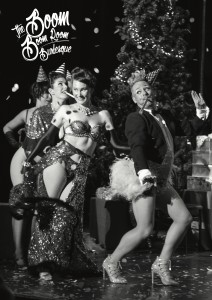 The Boom Boom Burlesque
About
The Boom Boom Room Burlesque is a spectacular revue of titillating temptation and tease.
Starring Mr Lola Illusion and his bevy of Boom Boom Room beauties, this stylish retro tease with its camp humour and chic glamour is the perfect way to entertain with a nostalgic flair.
There are a number of revues to choose from and each burlesque is jam packed with surprises to entertain and delight.
You will thrill to the hip shaking sensation that is Hollie Berry, sigh in wonder at Miss Veronica Doll, drink in the dangerous curves of Costa DeMillion and be charmed by Mr Lola Illusion and his hilarious antics.
Tassels will twirl, lingerie will fall, and you will never be the same.
Setup
Self contained show with props PA and Lighting required.


"It was as funny as it was tantalising, with impressive dancing and the kind of costumes that made you want to go straight home and throw anything remotely resembling a granny pantie out the window." - Manawatu Standard
Ideal for
Cabaret
Corporate Functions
Festivals
Conferences