Media Release
Rodger Fox Big Band
The Rodger Fox Big Band's latest recording, Reimagined! is being released on Monday, 4 April. Featuring the music of Sir Dave Dobbyn, the eleven tracks include the much-loved anthems Bliss, Be Mine Tonight, Magic (What She Do), Loyal, Outlook for Thursday, Don't Drink Water, Love You Like I Should, Welcome Home, A Bridge on Fire, Walking in Light and Slice of Heaven.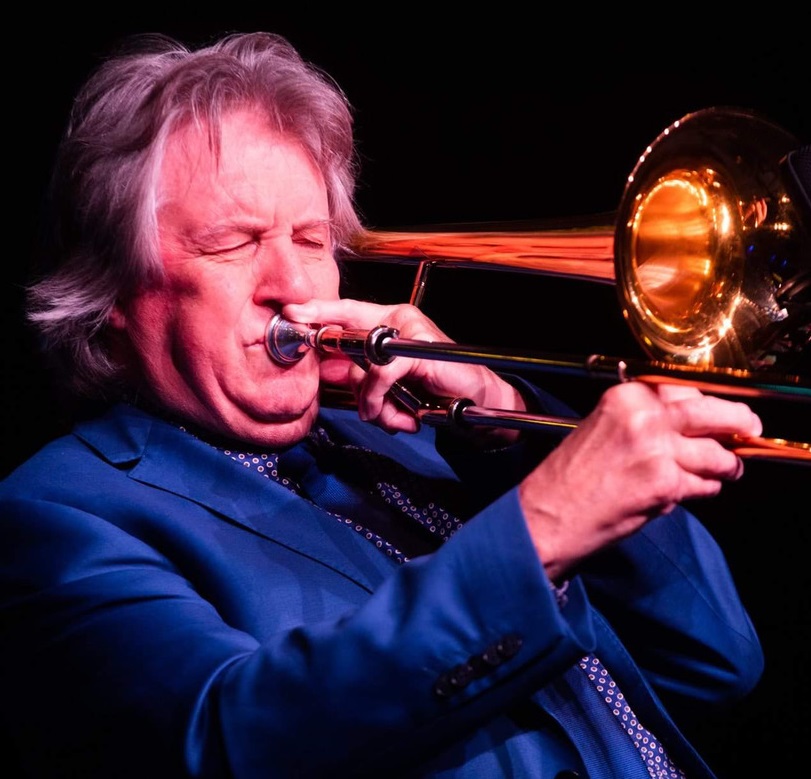 With Sir Dave Dobbyn's blessing, Rodger Fox gathered the best New Zealand and international arrangers and, together with the assembled talents of the Rodger Fox Big Band, produced a stellar recording of some of this country's best-known songs.
Sir Dave Dobbyn said, "I'm struck by the punch and enthusiasm of the band for these fun arrangements. Great players plus Rodger Fox's big sound makes for a wild ride. I'm glad Rodger had a ball with the tunes as a source to let fly freely, Stretch that riff man. Go Rodger."
Reimagined! features guest artists the likes of renowned drummer Gregg Bissonette, who has played with Maynard Ferguson, Santana, and the Ringo Starr All-Starr Band; Saxophonist Bob Sheppard - Steely Dan, Chick Corea and Mike Stern; Trumpeter Wayne Bergeron – Maynard Ferguson and Gordon Goodwin Big Phat Band; Bass Trombonist Bill Reichenbach – Buddy Rich Big Band, Quincy Jones, Michael Jackson and 1000's of movie scores; Guitarist Josh Smith - Joe Bonamassa; Trombonist Francisco Torres – Musical Director Poncho Sanchez; and Guitarist Larry Koonse - Mel Torme and Bob Mintzer.
Rodger says Sir Dave Dobbyn is one of our music icons, a stalwart, leader and supporter of the diverse New Zealand music scene.
"His music is evocative, not just of New Zealand's beautiful landscape but also of the national spirit and he's a timeless social rebel, as applicable today as he was when he first burst onto the scene in the late seventies.
"The flowing lyrical nature of his music lends itself to being 'reimagined' in a jazz idiom. Jazz is fast and fluid, moody and introspective, sophisticated and, at the same time, accessible, adding a new dimension to Sir Dave Dobbyn's music."
Reimagined! will also provide the foundation for the newly established jazz competition for schools, the Young Jazz Band-it, made possible and supported by Youthtown. Four arrangements and sound files from Reimagined! will be sent to each participating school's band directors. Participating bands will then upload a video recording of their band's performance of one of the Essential NZ arrangements to the Young Jazz Band-it link for evaluation. The final date for schools entering this year's Essential NZ Jazz Band Competition is Friday, 17 June 2022.
Reimagined! is available as a CD or Digital Album, see rodgerfoxbigband.com/shop/CD
Rodger Fox says, "I dig the generous input from all the arrangers, musicians, guest artists and Youthtown for supporting this unique project. Such a cool project to be involved with."
Ends
For further information, please contact:
| | | |
| --- | --- | --- |
| Rodger Fox | M: | 021 143 3526 |
| Rodger Fox Big Band | E: | rdfoxtrombone@gmail.com |
| | W: | Rodgerfoxbigband.com |
REIMAGINED! the Rodger Fox Big Band plays Sir Dave Dobbyn
Tracks


BLISS – Composed Sir Dave Dobbyn / Ian Morris
NATIVE TONGUE MUSIC PUBLISHING AMCOS / MORRIS IAN GORDON AMCOS CA
Arranged: Thomas Faure
Featuring: Gregg Bissonette, Drums; James Guilford, Trumpet; & Bryn van Vliet, Alto Saxophone
LOVE YOU LIKE I SHOULD – Composed Sir Dave Dobbyn
NATIVE TONGUE MUSIC PUBLISHING AMCOS
Arranged: Vaughn Roberts
Featuring: Josh Smith, Guitar; & Nicholas Baucke-Maunsell, Alto melody
BE MINE TONIGHT – Composed Sir Dave Dobbyn / Ian Morris
NATIVE TONGUE MUSIC PUBLISHING AMCOS / MORRIS IAN GORDON AMCOS CA
Arranged: Reggie Watkins
Featuring: Anita Schwabe, Piano; Bryn van Vliet, Alto Saxophone; & James Guilford, Trumpet
A BRIDGE ON FIRE – Composed Sir Dave Dobbyn
NATIVE TONGUE MUSIC PUBLISHING AMCOS
Arranged: Torsten Maass
Featuring: Bill Reichenbach, Bass Trombone; Bryn van Vliet, Alto Saxophone; & Wayne Bergeron, Lead Trumpet
MAGIC (WHAT SHE DO) – Composed Sir Dave Dobbyn / Warren / Guy / Kinney
NATIVE TONGUE MUSIC PUBLISHING AMCOS / MORRIS IAN GORDON AMCOS CA
Arranged: Francisco Torres
Featuring: Rodger Fox, Trombone; & Oscar Lavën, Tenor Saxophone
LOYAL - Composed Sir Dave Dobbyn
NATIVE TONGUE MUSIC PUBLISHING AMCOS
Arranged: Bryn van Vliet
Featuring: Jack Harre, Trumpet; & Kaito Walley, Trombone
WALKING IN LIGHT – Composed Sir Dave Dobbyn / Ian Morris
NATIVE TONGUE MUSIC PUBLISHING AMCOS / MORRIS IAN GORDON AMCOS CA
Arranged: Alan Baylock
Featuring: Rodger Fox, Trombone; & Wayne Bergeron, Lead Trumpet
JUST ADD WATER – Composed Sir Dave Dobbyn
NATIVE TONGUE MUSIC PUBLISHING AMCOS
Arranged: Daniel Hayles
Featuring: Gregg Bissonette, Drums; Frank Talbot, Baritone Saxophone; & Damian Forlong, Trombone
WELCOME HOME – Composed Sir Dave Dobbyn
NATIVE TONGUE MUSIC PUBLISHING AMCOS
Arranged: Lauren Ellis
Featuring: Gregg Bissonette, Drums & Percussion; Francisco Torres, Trombone; & Larry Koonse, Guitar
OUTLOOK FOR THURSDAY – Composed Sir Dave Dobbyn / Warren / Kinney / Guy
MUSHROOM MUSIC PTY LTD AMCOS / EMI SONGS AUSTRALIA PTY LTD AMCOS
Arranged: Thomas Faure
Featuring: Gregg Bissonette, Drums; & Bob Sheppard, Tenor Saxophone
SLICE OF HEAVEN – Composed Sir Dave Dobbyn
NATIVE TONGUE MUSIC PUBLISHING AMCOS
Arranged: Callum Au
Featuring: Oscar Lavën, Tenor Saxophone; & Deane Hunter, Guitar
The Rodger Fox Big Band
Rodger Fox – Musical Director/Trombone
Special Guests:
Gregg Bissonette, Drums
Wayne Bergeron, Trumpet
Larry Koonse, Guitar
Bill Reichenbach, Bass Trombone
Josh Smith, Guitar
Bob Sheppard, Saxophone
Francisco Torres, Trombone
Saxophones:
Bryn van Vliet, Alto / Flute
Nicholas Baucke-Maunsell, Alto / Flute
Oscar Lavën, Tenor
Dylan Holmes, Tenor, Tracks: 1,2,8,9 &10
Louisa Williamson, Tenor, Tracks: 3,4,5,6,7 &11
Frank Talbot, Baritone
Trumpets:
Jack Harre, Lead, Tracks: 1,2,3,5,6,8,9,10&11
Cameron Robertson
James Guilford
Chris Selley
Trombones:
Chris Fox, Lead
Kaito Walley
Damian Forlong
Kurt Gibson
Keyboard:
Anita Schwabe
Guitar:
Deane Hunter Tracks: 1,3,4,5,6,8,9,10&11
BASS:
Rory Macartney
Drums:
Lance Philip Tracks: 2,3,4,5,6,7&11
Credits:
Recorded at New Zealand School of Music, Wellington, New Zealand
Recording engineer: Richard Caigou
Mixed at Tritone Studios, Los Angeles
Mixing and mastering engineer: Talley Sherwood
Gregg Bissonette: Drums recorded by Frank Rosato at Woodcliff Studio, Los Angeles, California